Welcome to
Half Moon Bay
Sportfishing
Join us for world class sportfishing and nature trips
Learn More
Anchovies and Jacksmelt at Harbor; Rockfish Change in Plans....
Wed., Sept. 29 - The anchovies and jacksmelt have arrived at the harbor just in time for Labor Day weekend. Grab your light fishing rod and sabikis (or we have them for sale here at our shop), bring a cooler and load up on the anchovies that have arrived inside the harbor and the jacksmelt that are hanging just outside the south edge of the harbor at the Surfer Beach area. Heard there may be a few mackerel mixed in, too.

Beginning Friday, September 1, DFW announced that rockfishing off the coastline will once again be restricted to catching slope and shelf rockfish outside of the 50 fathom boundary (deeper than 300 feet), as it was earlier this season. This inseason change applies to all areas from the Oregon border to just above Santa Barbara through the end of 2023 in an attempt to protect one species of rockfish...the quillback. Thankfully the deeper water does crank out some extremely huge rockfish as we saw earlier this year...it just takes a little more muscle and a little heavier sinkers and gear. We will enjoy fishing the local waters where there is a nice variety of nearshore rockfish through the end of August, and thankfully with the offshore areas accessible, at least we're still able to continue rockfishing trips...barring any additional changes...through the end of the year.
BLUEFIN UPDATE: Still a sprinkling of huge fish being landed, but it may be time to start scouting around and try some of the other tuna spots within our offshore waters. Our shop still has a handful of Madmac 240 lures for sale and a limited supply of 25 yard packs of Seaguar Big Game fluorocarbon in 100, 130, 150, 170 and 200 pound test.
Welcome to Half Moon Bay Sportfishing and Tackle, located on the coast about 20 miles south of San Francisco, the only stop you have to make for the fishing adventure of a lifetime! We have the supplies you need for a fantastic day on the water onboard the charterboats that book through our shop as well as all the basic gear, bait, and tackle you need for a great trip on your own boat or from the shore. You can also purchase day and annual fishing licenses as well as commercial fishing and hunting licenses at our shop. Our staff has unsurpased knowledge of gear and techniques for salmon, rockfishing, surf fishing, Dungeness crab and other various species of ocean dwellers that live in our part of the ocean.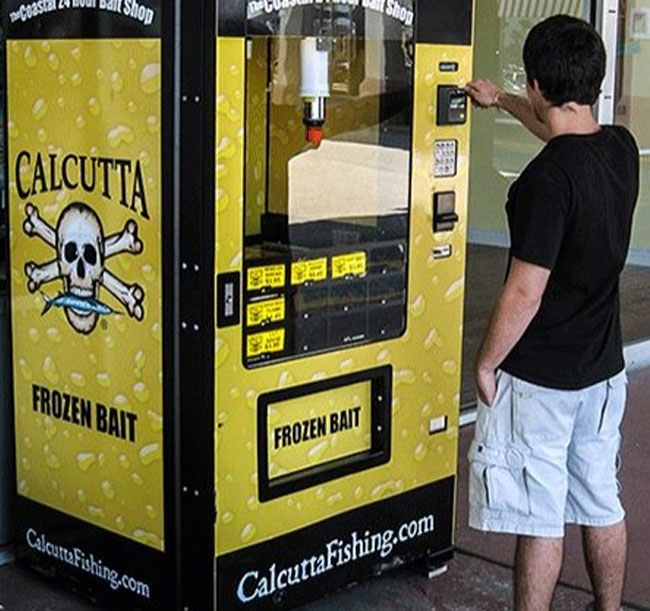 Got Bait?
We've always had a complete array of the best bait that's available for sale in our shop that is constantly rotated to be as fresh as possible. But now we've gone one step further...Half Moon Bay Sportfishing is one of the first bait and tackle shops in California to own its own frozen bait vending machine available outside our front door 24 hours a day 7 days a week. Even when the shop is closed or we're crazy busy getting our charterboat customers out first thing in the morning, you can purchase your frozen bait from the machine using either cash or credit cards and get on out to the water quickly and easily.
Learn More
Charterboat Trips
Half Moon Bay Sportfishing and Tackle is proud to be the booking agent for the vessel Queen of Hearts, which has taken more people fishing out of Half Moon Bay than any other boat, hands down, since 1990. The Queen of Hearts is Coast Guard licensed and inspected, insured, well maintained, and has an impeccable safety record. Due to the COVID-19 pandemic, beginning in March 2020 when the stay at home orders were established, we discontinued booking any other vessels other than the Queen of Hearts through our shop. As of July 2021, however, we are once again booking the fast, clean and sleek six-pack boat the Reel Screamer II.
The Queen of Hearts with Captain Wallace Klughers at the helm is ready to take you fishing on our productive grounds. The Queen of Hearts is well known for offering outstanding rockfishing trips, but also fishes for salmon when in season, albacore when in range, and will offer crab combos beginning with the 2019 crab season. The Queen of Hearts has taken more folks fishing for over the last 25 years than any other charterboat in the area. Whether you want to catch a big Lingcod or a huge Red, salmon or crab … the Queen of Hearts is for you!
Half Moon Bay Sportfishing is delighted to be working with the six person vessel the Reel Screamer II owned and operated by Capt. Don Giberson. The Reel Screamer II is a gorgeous, immaculate 35' Carolina Classic sportfishing yacht catering to the needs of up to six passengers. Everything needed to fish onboard the Reel Screamer is included with the price of the fare, including fishing rods, reels, terminal tackle and bait. The only extra required is a fishing license which can be purchased at our shop the morning of the trip. Join Capt. Don for your next fishing adventure!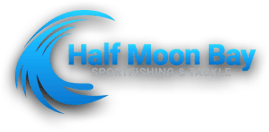 (650) 728-3377
27 Johnson Pier, Half Moon Bay, CA 94019
Half Moon Bay Sportfishing & Tackle, Copyright © 2019. All Rights Reserved.
Website Hosting and Design provided by TECK.net Fish Counts provided by Sportfishingreport.com. All Rights Reserved.